Our Company
About Us
Rocky Mountain Equipment (RME) is a consolidator of agriculture and construction equipment dealerships, primarily focused around the CNH brands. We are the largest independent agricultural equipment dealer in Canada and the second largest Case IH dealer in North America. RME's business employs nearly 800 people directly, and serves tens of thousands more customers and their employees. Operating 36 dealerships across Alberta, Saskatchewan and Manitoba as well as serving customers radiating beyond those three provinces, RME's goal is to bring professional, stable, and dependable equipment partnerships to its customers.
History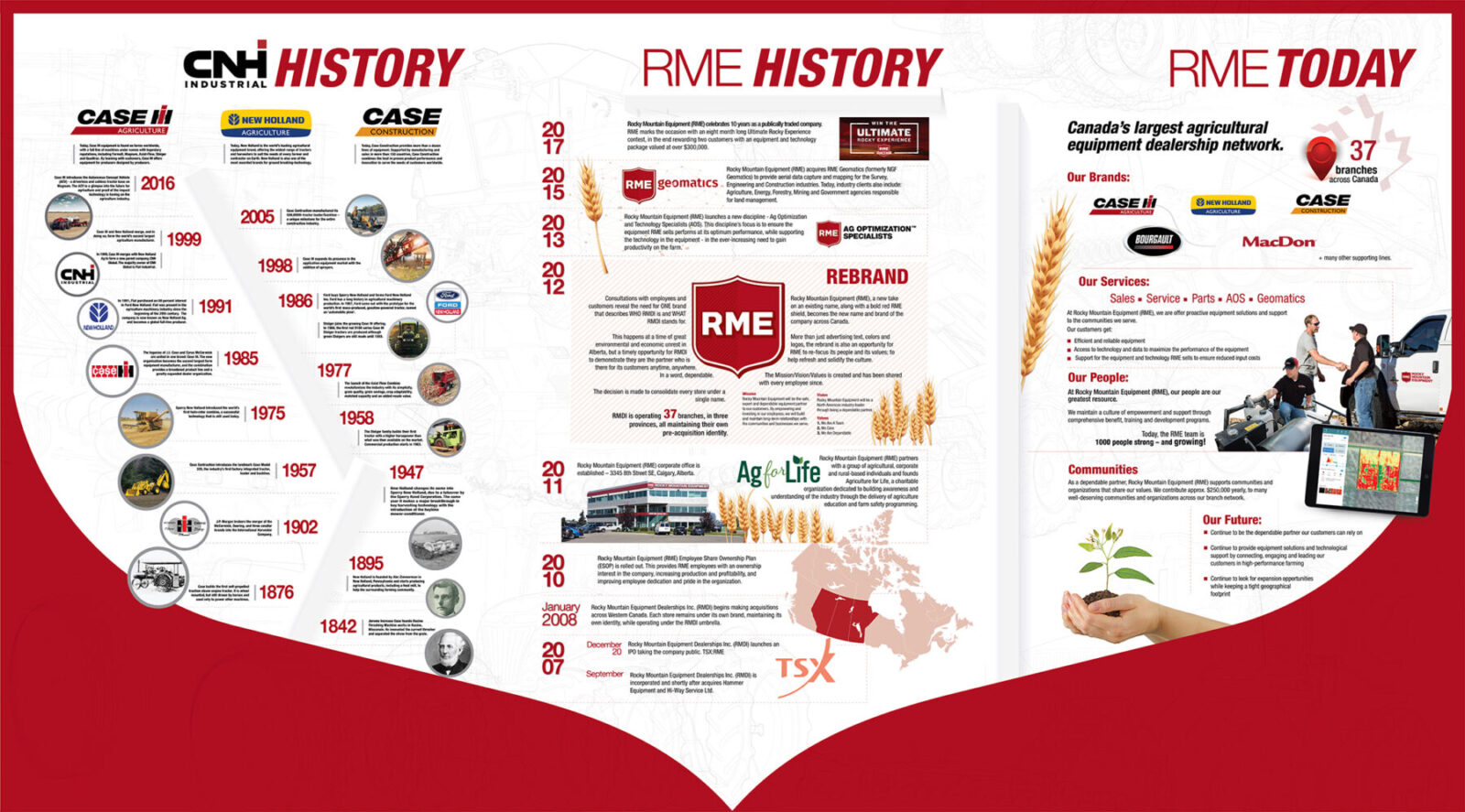 Born out of the consolidation between Hi-Way Service Ltd and Hammer Equipment, as well as several smaller brands—Rocky Mountain Dealerships was formed after an initial public offering (IPO) in 2007. At the store level, operations continued under the Hi-Way Service and Hammer Equipment names. Soon after, Miller Equipment was acquired in 2008 providing the dealerships with exposure to markets beyond Alberta into Saskatchewan and Manitoba. Miller Equipment also continued to maintain its separate brand identity at the store level.
In late 2011, RME began the planning a large-scale re-brand initiative to consolidate every store under a single name, Rocky Mountain Equipment. Along with the name change, a bold red shield was selected as the company logo to symbolize strength and dependability. By the end of 2012, all branches were merged and united under the Rocky Mountain Equipment name.
Through the years, the company has grown from 12 to more than 36 branches across Western Canada based on its ability to acquire and consolidate existing dealerships. After solidifying the brand name in the eyes of its customers, by 2019 it dropped its name from Rocky Mountain Equipment to simply "RME".
As the dealership network has continued to grow and brand continued to strengthen, the vision is to become a North American industry leader through being a dependable equipment partner for customers.
Mission
Rocky Mountain Equipment will be the safe, expert and dependable equipment partner for our customers. By empowering and investing in our employees, we will build and maintain long-term relationships with the communities and businesses we serve.
Vision
Rocky Mountain Equipment will be a North American industry leader through being a dependable partner.
Values
1.    We Are A Team  
We work together as a team – as individuals, across all our branches, and as a company. We will put the success of the team before individual goals.
2.    We Care
We are engaged and passionate about what we do. This is more than a job for us; we are proud to be the partner our customers need and deserve.
3.    We Are Dependable
We understand that in an unpredictable world, one of the greatest ways we can add value is by demonstrating accountability, reliability and a genuine commitment to doing our best, every day.